When you're looking for great dog breed gifts you'll notice that some dog lovers like to collect and display items for a specific breed. For these dog lovers… your gift choices are seemingly endless. You'll find all sorts of great breed gifts for the home, yard & garden – and other novelty gifts that your friends and family are sure to love. And shopping online for breed gifts couldn't be easier!
House Wares Are Always Welcome Gifts
There's certainly no shortage of dog lover gift ideas when it comes to household items. Choose one of the many fun and practical dog breed gifts and bring an added dimension of warmth to your dog lover's home.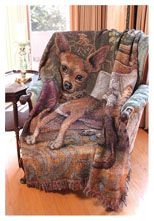 How about an afghan or a throw pillow decorated with a picture of their favorite breed of dog that they can proudly display on the living room couch?
Or how about an adorable dog breed collectors plate? It would look terrific hanging in the hallway or on the wall of the den.
And there are many great dog breed gifts that would brighten up any dog lover's kitchen. How about an apron for the cook . . . a set of potholders . . . a refrigerator magnet . . . or a dog treat jar . . . each with a picture of their beloved breed?
You'll find that many dog lovers like to fill their homes with things that remind them of their special canine friends.
It can bring a bright spot to their day to be reminded of something they care so much about.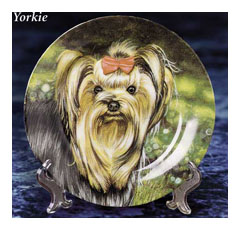 We know a couple who just adores their little Yorkie named Molly.  And they have quite a collection of Yorkie items displayed throughout their home.
They've enjoyed spending many years collecting anything "Yorkie". It's really amazing! Their home is a tribute to Molly and their special love of Yorkies. You may not know any dog lovers that take their passion to that level. But you probably know several that would absolutely love to have a few dog breed gift items to display throughout their homes.
And there are so many fun and functional dog breed gifts to choose from:
Afghans & Pillows
Rugs
Aprons
Picture Frames
Footstools
Leash Holders
Clocks
Coasters

Coin banks
Cookie / Treat Jars
Towels
Potholders & Trivets
Magnets
Coffee Mugs
Plates / Plaques
Memo Boards
Dog Breed Gifts For The Yard & Garden
We all know a dog enthusiast that loves spending time in the yard or garden. Here are some really nice outdoor gift items that your dog lover will enjoy displaying outside the house. These outdoor gifts are a great opportunity for a dog lover to show off their love of dogs:
Doorbells
Garden Stones
Mailboxes
Statues

Flags
Welcome Signs
Wind chimes
Door Mats
Christmas And Holiday Gift Items
The gift-giving holidays are perfect times for dog enthusiasts to show off their fondness for their favorite breeds of dogs. Giving personalized dog breed gifts like Christmas ornaments, stockings and treat tins is a great way to include your dog lover's special pooch in the Christmas festivities.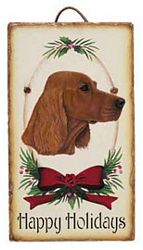 Many people take pride in decorating their Christmas trees with ornaments that have special meaning for them. And these holiday ornaments quickly become cherished keepsakes that will be proudly displayed year after year.
So what dog lover wouldn't cherish a Christmas doggie breed ornament? Special holiday gifts like these are held dear . . . and bringing them out for holiday display often becomes a warm and welcomed tradition. Every dog lover should have at least one special dog breed Christmas ornament to proudly show off! Each year Christmas dog-themed collector's plaques, plates & figurines are carefully taken out of storage and proudly displayed for the holiday season.
Then they are lovingly taken down and packed away with great anticipation of displaying them again next year. This is certainly a gift that could last a life time . . . what a great gift idea!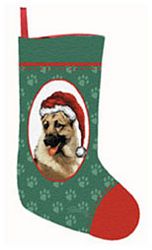 Christmas stockings are lots of fun and add to our holiday festivities and décor. Every family member gets one. . . so why shouldn't every pooch have their own doggie breed Christmas stocking, too?
Granted they don't often wear stockings . . . but why leave them out of the fun?
A Christmas stocking featuring the charming artwork of Linda Picken will festively bring warmth and holiday spirit to any room . . . let's not forget lots of smiles, too!
Novelties And Everyday Gift Ideas
And let's not forget all those fun and quirky gifts that people have come to expect. The everyday items that we use all the time can be special gifts if they are adorned with the likeness of a favorite dog breed. It's just amazing . . . the list of dog lover gifts goes on and on. There are so many wonderful dog breed gifts that would make any gift recipient feel good about their dog.
Here are some more great functional dog breed gift ideas for you to have fun with:
Key Chains
Doggie Breed Calendars
Umbrellas
Tote Bags

Mouse Pads
Note Holders
Address Labels
License Plate Frames
Dog Breed Gifts For The Lesser Known Breeds
If you're looking for a dog breed gift for one of the lesser known breeds . . . like the Cane Corso, the Leonberger, or the Spinone Italiano . . . they'll definitely be harder to find than if you were looking for Beagle, German Shepherd, or Labrador dog gifts.
And when you do find some . . . chances are the selection won't be as varied as the selection for the more popular breeds. But that just means that your dog lover will definitely appreciate that you took the time to seek out such a rare dog breed gift.
And don't forget to check out dog breed calendars. When there are very few gift options for some breeds, you can usually find a nice dog calendar for a rare breed.Calendars are great functional gifts . . . most people have at least one . . . and a dog breed calendar will bring smiles to faces all year long.
Related posts: