You'll Really Love All The Great Benefits Of The Booster Bath Dog Bathing System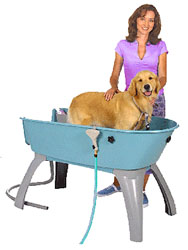 No More Wrestling With Your Dog To Keep Her In The Bath
You'll Stay Much Drier
Your Dog Will Be Sure Footed And Secure… No More Slipping And Sliding
Saves You Time… Get The Job Done Faster!
No More Trying To Hold Your Dog Still While Rinsing With Ice Cold Water From The Hose… Nice For Both Of You!
No More Aching Back After You Bathe Your Dog… Ouch…Oh Yeah, You Know That Feeling!
Ultimate Convenience… Bathe Your Dog Any Time Indoors or Outdoors
I remember bending over the tub while bathing my dog. He'd be so nervous… just because he couldn't get a firm footing. He'd be slipping and sliding around the whole time as he desperately tried to get away so he could get out of the tub. And me? I always came away drenched and nursing a sore back from the whole ordeal. And after I'd get my dog dried off and settled down… then I'd be off to clean up the mess left all over my bathroom.
I eventually started paying to bring my dog to the local groomer whenever he needed a bath. Now I look back on all the money I spent on grooming bills over the years… just to avoid the discomfort for both me and my dog. I sometimes think… hmmm… If I only had one of these new elevated dog grooming tubs back in the day…
Well… If you're a serious do-it-yourself dog bather… you just have to take a at this convenient dog grooming tub system.
The Booster Bath Indoor/Outdoor Dog Bathing Center with the optional Tropic Shower Water Kit
is to die for! It will definitely revolutionize the way you bathe your pooch. The Booster Bath is the Best At-Home Dog Bathing System that I've ever seen. The Tropic Shower hooks right up to your existing washing machine water supply. Then at bath time… just connect an ordinary garden hose to the Tropic Shower and run it outside to the dog bathing area.
Finally! A convenient garden hose hook-up that actually regulates the water temperature. Now that's a great dog bathing system… what took them so long to come out with this stuff? This back-saving dog grooming tub can even be used for bathing your dog inside. You'll get the job done in a fraction of the time… save your back and stay dryer.
The booster bath dog grooming tub will also save your dog stress at bath time. No more slipping and sliding. Your dog will really feel secure standing on the padded non-slip surface.  This dog bathing system was recommended by Dog World Magazine in their "Notable Products for the New Millennium".
Related posts: